When comparing metal roofing to alternatives, several factors must be considered. This section examines properties of metals roofs and provides a comparison to other roofing products. In addition, several myths about metal roofs are dispelled.
Weight
Metal roofs shine in this category, offering one of the lowest weight-per-square-foot metrics of any roofing material on the market. Typical installed weights range from 1.25 to 1.75 lbs. per square foot (psf). Since metal does not absorb moisture, its weight is the same in both dry and wet conditions (excluding snow or ice build up). By contrast, heavy shake can weigh a few psf or more when wet. Clay and concrete tiles can weigh as much as 10 psf, requiring super sub-structures to support this added mass. Lightweight metal helps to reduce worker fatigue since heavy lifting is significantly reduced.
The reduced weight is of particular importance in high seismic zones -- such as California -- where roofs can experience severe vertical and horizontal forces during an earthquake. The lightweight metal roof significantly reduces the chances of catastrophic failure or collapse of the roof structure during a massive quake.
Fire Protection
Since metal is non-combustible, it will not burn or support the spread of fire. Most roofing materials, except clay or concrete tiles, have fire resistance protection on one side only (usually the top side). During an internal fire, a heavy roof could experience premature collapse as the internal support members give way. A wood roof generally accelerates the spread of fire, as the wood provides increased dry fuel for the fire itself. A metal roof can help to preserve the integrity of the roof structure long enough to ensure a safe escape.
Noise
Concern about noise of metal roofs has kept otherwise eager consumers away from the product. While it is true that metal can resonate unlike tile or wood, studies confirm that a properly installed metal roof yields no significant increase in noise compared to other roofing alternatives. Attic insulation and double-pane windows -- combined with the fact that many metal roofs are mounted flush on a solid decking -- all contribute to acceptable noise performance of metal roofing. In addition, the embossed textures of new metal roofs help to disperse rain, reducing noise even further.
Weather Resistance
Metal offers superior weather resistance, including exposure to extreme heat and cold. According to studies by the Florida Solar Commission, metal roofs reflect as much as 70% of the sun, thereby reducing solar gain by as much as 34%. This helps to keep attics cooler in the summer, translating into energy savings and improved interior occupant comfort.
In certain areas of the world where hail is prevalent, metal roofs have performed exceptionally well. For example, Dura-Loc metal roofs have passed a class 4 UL hail test. In similar situations, other roofing materials would be destroyed, leading to premature leaking. In extreme cases, it is possible for "baseball sized" hail to deform a metal surface leading to cosmetic damage. However, the integrity of the roof remains intact while continuing to provide protection against the elements. Depending on the surface treatment of the metal roof, minor cosmetic damage may be camouflaged by variegated surfaces.
Longevity
Some metal roofs, such as copper, can outlast the structure itself. It's no coincidence that most metal roofing manufacturers stand behind their products with 50-year transferable warranties. Some companies, such as Classic Products even offer lifetime warranties for the original owners. Assuming proper maintenance, a quality metal roof could last 50 years, though this is the upper range of what homeowners should reasonably expect.
Colorfastness
Depending on the coating used, metal roofs exhibit excellent colorfastness and gloss retention. Among the best performing finishes is Polyvinylidene Fluoride (PVDF), known in the trades as Kynar-500 or Hylar-5000. Important properties of PVDF finishes include:
High mechanical strength and toughness
High abrasion resistance
Chemical and solvent resistance
Weathering resistance
High thermal stability
High dielectric strength
UV light and radiation resistance
Fungi resistance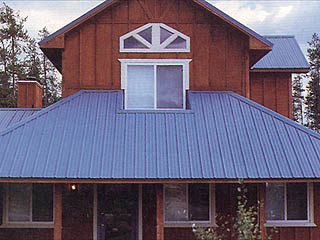 PVDF is so tough it is used extensively in commercial and medical applications where high reliability is essential even in caustic and highly corrosive environments. PVDF is also used on many commercial-grade window frames including Pella Clad windows.
Other coatings include urethane, plastisol, acrylic and silicone. However, while most of these surface treatments lose the majority of their gloss retention after three to five years, PVDF maintains stable gloss retention for nine to ten years, after which a gradual drop off begins to occur.
With respect to actual color retention of PVDF, Taiyo Steel in Japan conducted a study comparing PVDF to the aforementioned coatings. Ten-meter high steel panels facing a southern exposure were erected. Over the 14-year period, only PVDF maintained near original appearance -- confirming again the high-performance of PVDF-treated substrates.
Cost
Metal roofs come in an infinite variety of styles, colors, shapes and qualities. However, metal roofs have an installation cost comparable to tile or high-quality shake. Composition or asphalt shingles are generally the lowest-cost roofing material, while traditional slate is the most expensive.
Installation cost is only one component of the total lifecycle cost of a roof. Due to metal's durability and nearly maintenance-free performance, a good metal roof will not require replacement during the life of the structure. Even though its up front cost may be more, the net-present value of a metal roof over a 50-year period means that its true cost is in line with even the least expensive roofing materials. Furthermore, a quality roof adds value to the home and neighborhood which isn't accounted for in this analysis.
Many other forms of roofing, such as wood and even tiles, require periodic maintenance, including replacement of broken, split, or cracked pieces, as well as fire preservative treatments and pressure washing to remove algae and fungus build up. Even concrete tile roofs can begin to show signs of significant fungus build up after just a few years -- particularly on the shady sides of a roof that receive less sun exposure. Pressure washing and sealing a tile roof can cost several thousand dollars, not to mention the dangers associated with walking on a roof prone to breakage.
Walkability
Walkability is a factor on most roofs, and metal roofs are not immune. In cases where metal roofs -- such as panels -- are laid flat on a solid plywood decking, the risk of damage is low. However, if the roof is laid on battens, such as metal tiles and shingles, care must be taken to walk on the supported areas only. Excessive weight on the unsupported sections can potentially deform the surface, requiring replacement. Some metal roof manufacturers offer a foam filler on the backside if frequent walking is expected. Generally, a properly installed metal roof should require virtually no maintenance, mitigating the need to walk on it at all.
Lightning Susceptibility
Contrary to popular belief, a metal roof is no more likely to attract lightning than any other type of roof. Consider trees (made of wood) which frequently attract lightning. Studies prove that lightning is attracted to the highest surrounding objects, regardless of their composition. In the event lightning were to strike a metal roof, it will not combust like wood. Rather, it will help to disperse the electrical charge over a larger surface area. Some municipalities may require grounding of the roof, however, this is the exception rather than the rule.
Maintenance
Metal roofs are virtually maintenance-free. Period rinsing with a hose or pressure washer can help keep the surface clean and free of corrosive residue, such as bird droppings and acid rain. Generally, the surface of metal roofs do not support the growth of algae.