Price

$59.91
$5.95 S/H + Free USPS Priority Mail Upgrade
$318.00
$9.95 S/H + Free USPS Priority Mail Upgrade
$1,495.00
Free Ground Shipping in USA
CrackMONs
3 Qty
18 Qty
100 Qty
Included Epoxy
(Exterior)
1 Qty
5 Qty
20 Qty

Five-minute hardening, premium thixotropic structural epoxy adhesive. Tensile lap shear strength: 2,270 psi. Multiple-use dual 1-ounce total reservoir syringe-type applicator. Cold-temperature resistant.

Shipment
USPS Priority Mail with Delivery Confirmation
Ground
Ships
Next Business Day
2-3 Business Days
FOB Point
Origin - California
Inventory
In Stock
Special Order
Product Description
The CrackMON® is a simple, reliable, and inexpensive device that measures vertical and horizontal differential movement in concrete and masonry surfaces. Ideal for restoration or analysis of differential settlement, the CrackMON® is an indispensable tool for every contractor, builder, trades professional, or homeowner. Available in three conveniently sized PAKs, each CrackMON® is precision manufactured in the USA to exacting Builders Websource® standards using premium-quality materials and workmanship for superior engineering accuracy. If it doesn't say CrackMON®, it's not original.
---
Who uses CrackMON®?
Anyone who designs, builds, manages, maintains, lives in, or inspects brick, concrete, or masonry structures. CrackMON® is used by architects, engineers, builders, home inspectors, government agencies, home owners' associations, consultants and lawyers. The fastest growing use of the CrackMON® is in pre-construction surveys which insurance companies require before tunneling or excavation can begin. By installing gauges on all noticeable cracks in buildings next to your site, you can prove whether damage does or does not occur as a result of your project.
In addition, CrackMON® is ideal for assessing ongoing damage to foundations and masonry due to earthquakes, high winds, ground subsidence (settlement) and soil upheaval (such as high clay content).
How does the CrackMON® work?
CrackMON™ consists of two overlapping acrylic plates. One plate is white with a black millimeter grid, while the other is transparent with red crosshairs centered over the grid. Once the CrackMON™ is in position across a crack, the crosshairs shift vertically or horizontally on the grid if movement occurs, making it easy to see and track crack movement.
Is the CrackMON® accurate?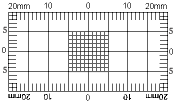 When installed properly, the CrackMON® is very accurate. It can measure movements as small as 0.5 mm (.020 inch) and crack widths up to 20 mm (0.79 inch). For more detailed specifications see the SPECS.
Installing the CrackMON®
Install CrackMON® using either anchors and bolts / screws, 5-minute epoxy adhesive, or a combination of both. If anchors and screws are used, the CrackMON® can be taken down and reused, but we don't recommend this method of installation in areas easily accessible by the general public. The CrackMON® is less likely to be removed by vandals if it is firmly epoxied in place.
When deciding whether to use anchors or epoxy, take into consideration the type of surface (for example, brick, masonry, concrete), the location and the risks (including cosmetic) involved in drilling holes for anchors. In some cases epoxy putty (if you can find a supplier) is the best mounting medium as it can minimize surface damage, is more easily removed and helps compensate for uneven or curved surfaces.
The CrackMON® can even be used on corners, following these mounting guidelines:

---
Material

Injection molded acrylic for superior measurement accuracy and legibility.

Dimensions (each plate)

32 mm x 102 mm x 6 mm / 1.25 x 4 x 0.25 in

Dimensions (overall)

32 mm x 146 mm x 6 mm / 1.25 x 5.75 x 0.25 in

Dimensions (grid)

40 x 20 mm / 1.57 x 0.79 in

Discrimination

0.5 mm / 0.020 in

Max. horizontal (width) movement

20 mm / 0.79 in

Max. vertical (upward) movement

10 mm / 0.38 in

Coeff. of thermal expansion

6.84 x 10-5 mm/mm/°C
3.80 x 10-5 in/in/°F

Country of origin

Precision manufactured in the USA to precise tolerances
CrackMON® is a registered trademark of Builders Websource®.
Foundations
Masonry
Walls
Basements
Slabs
Walkways
Driveways
Restoration
Earthquake
Settlement